Your Reliable Water Well Drilling Company Servicing Hollister, OH and Surrounding Athens County
Water Well Drilling In Hollister, Ohio
Call us now!
(740) 279-3419
Water well services provided by Mount Drilling.
Quality water services since 1968!
We'll get ya flowing!
Our Water Well Services
Water Well Drilling
Water Well Repair
Emergency Water Well Repair
Commercial Water Well Drilling
Residential Water Well Drilling
Commercial Water Treatment
Water Softener Installation
Water Softener Repair
Water Pump Installation
Water Pump Repair
Ohio Service Areas
Fairfield County: Lancaster, Amanda, Baltimore, Bremen, Buckeye Lake, Canal Winchester, Carroll, Lithopolis, Millersport, Pleasantville, Rushville, Stoutsville, Sugar Grove, Tarlton, Thurston, West Rushville.
Hocking County: Logan, Buchtel, Laurelville, Murray City.
Athens County: Athens, Nelsonville, Glouster, The Plains, Trimble
Licking County: Newark, Heath, Granville, Johnstown, New Albany, Hebron, Buckeye Lake, Thornville, Pataskala, Reynoldsburg, Utica, Hanover, Gratiot, Hartford, St. Louisville, Kirkersville, Alexandria.Whitehall, Worthington, Groveport, Obetz.
Franklin County: Columbus, Bexley, Canal Winchester, Dublin, Gahanna, Grandview Heights, Grove City, Hilliard, New Albany, Pickerington, Reynoldsburg, Upper Arlington, Westerville,
And Surrounding Areas Like: 
Call us now!
(740) 279-3419
Or, Request A Quote Today
Give us a call! (740) 279-3419
As homeowners, we all know too well that the water bill is a recurring expense that every homeowner and business owner in Hollister, OH can't ignore.
But, what if you discovered a way to make your water cleaner, eco-friendly and cost-effective?
With water well drilling, you can!
Clean water that's cost-effective and eco-friendly for many years to come can be had! Plus, there are more benefits. Keep reading to learn about water well drilling.
The Main Benefits of Water Well Drilling
You'll no longer pay for water because you can access it free.
A well is a huge investment and increases property value.
The initial cost of well drilling and water pumps will pay back within a short time.
It's a natural water source that adds to the safety of your water.
It requires little maintenance.
Well water has a better taste. It's more refreshing because it's natural, making it taste better than chemically treated public water.
Well water is eco-friendly because it's naturally filtered.
Mount Drilling is your reliable provider of water well drilling serving in Hollister, Ohio. For many years, we've served both residential and commercial customers by providing them with professional, water well drilling services.
What makes our well drilling service exceptional?
Our experts will find the right location to drill the well.
We use the latest equipment to drill your well to your satisfaction.
We are reliable, friendly and prompt.
We drill the right type of well that will suit your needs.
Call us and we'll complete the job to your satisfaction.
Is Well Water Free from Contaminants?
Study shows that over 15 million Americans obtain water from private wells. And while the United States is among the countries with the safest supplies of drinking water, well water is still prone to contaminants, which include:
Natural minerals and chemicals such as copper, arsenic, calcium and radon.
Herbicides, pesticides and other land use practices such as runoff from secluded animal feeding points.
Heavy metals from mismanaged waste or nearby mining facilities.
Fuel drilling and industrial pollution can add high amounts of Volatile Organic Compounds (VOC) into well water.
Improperly maintained septic systems and malfunctioning sewers.
Therefore, it's important to test your well water for heavy metals, inorganic compounds and pesticides before its first use.  We also have water treatment and water softener services.
Call us today!
(740) 279-3419
Water Testing
Does your well water taste or smell funny? It's time to contact Mount Drilling professionals who'll test it to ensure it's safe for drinking. You should periodically test your water for nitrates, bacteria and heavy metals. You can do this in two ways. First, you can order a DIY water testing kit, which can cost you anywhere between a few dollars and hundreds of dollars dependent on what you would like to test for. The second option is to contact a professional water testing company to visit your well and use their tools to test your water.
At Mount Drilling, serving Hollister, Ohio, we've trained personnel and equipment to test your well water for different contaminants. Once we complete the testing, we'll present the testing report to you and advise you on which contaminants may require removal. After detecting the contaminants in your water, we'll recommend the best water filtration option for your well, and even filter the contaminants out of your well.
Exess Minerals
Depending on the composition of your soil, your well water may contain certain minerals including copper, iron, sulfur, magnesium, and calcium. Consuming an excess of these minerals in water can affect the water's taste, your plumbing fixtures, and your health. And speaking of health effects, excess nitrate can threaten your blood's oxygen-carrying capacity while excess copper can lead to gastrointestinal problems. Among all of these effects, the main culprit of excess minerals in your well water is calcium build-up that causes hard water.
If after testing your well water, we notice that it's hard water, we may recommend water softening for you. We carry out water softening installation for our customers to remove the excess calcium build-up that causes soap scum, hard water spots, and lime scum.
How Will You Benefit from Our Water Softener Installation?
You'll notice a reduction in the use of detergents and soaps.
You'll have spotless dishes.
Your white clothes will be whiter.
You'll have softer linens.
You'll extend the lifespan of your appliances.
If you have a water softener already installed, you need to let a specialist inspect it regularly and make the necessary repairs. If you don't do this, it will cost you a fortune in replacement. Ultimately, repairing it will make the unit durable. Well, you can still repair it if you know its components and how they work. However, it's always recommended to let an expert handle it. At Lancaster Drilling, we have experienced experts that offer top-notch water softener repair services to water well owners in Hollister, Ohio.
Are You Unable to Pump Water from Your Well?
Do you remember those bad days? You need several gallons of water to water the garden or drink but the pump won't respond. Disconcerting, right? Often, the materials within your well such as casings, wires or pump motor can fail. Sadly, these failures usually occur when you need water urgently. Whether it occurs on a summer night or during a drought, Mount Drilling has got you covered. We offer water well repair services. Our experts will use the latest equipment and extensive experience to diagnose the issue that hinders the proper functioning of your well. This includes inspecting your water pumps thoroughly to ensure they operate normally. After inspecting the main cause of the issue with you well, we'll repair it or replace the defective part. Do you have an issue with your water tanks too? Don't hesitate to contact us about it for an effective and lasting solution.
Contact Us for High-Quality Water Well Services
For healthy, safe, and clean water in Hollister Ohio, you need to contact Mount Drilling. We provide water well services for commercial and residential establishments. The services include well drilling, well repair, water softener repair and installation, water testing, purification, filtration, treatment and more. Our goal is to help you access clean water and ensure your well's pumping mechanism is up-to- date. Contact us now for a free quote.
Call us today!
(740) 279-3419
"If you're looking for a professional well service company, stop looking and call these people. They will not disappoint you. From the first phone call till the serviceman left my house, it was complete professionalism. They were at my house within two hours of our first phone call. And didn't leave until the job was done, and done right. These are the only people I will call if I ever need well or softener service. Thank you Cammy and Matt. You guys are awesome!"
Scott E
"Great Service, removed a very difficult well pump, installed a new pump and pressure tank, check for water pressure and leaks. Fantastic service and very polite service tech. I would recommend them to anyone needing well service." 
Tamara J.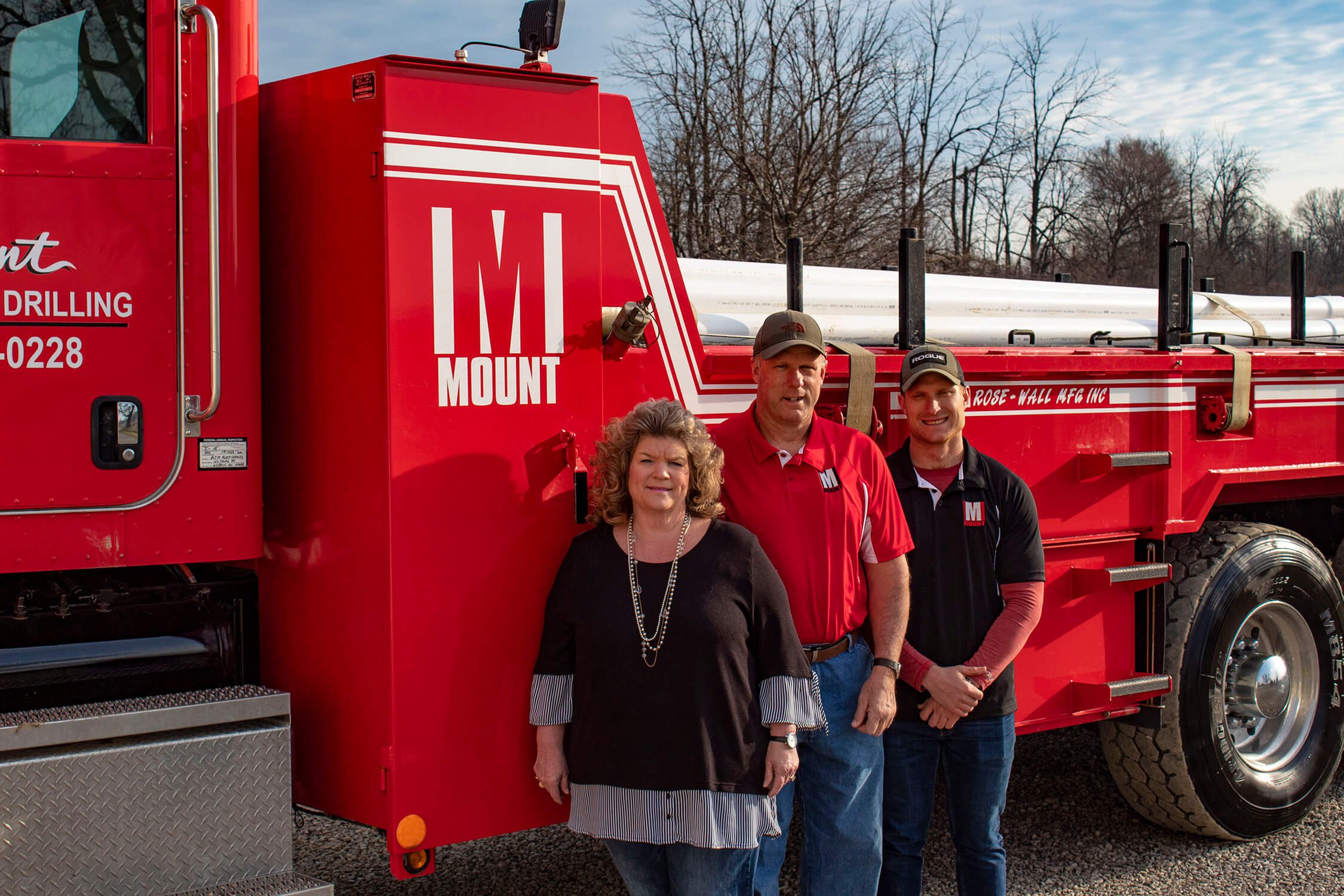 Mount Water Well Drilling
Serving Hollister, OH and beyond.
(740) 279-3419